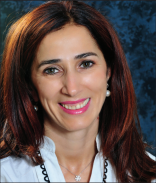 Aysel Atli, MD, MPH is the founder and medical director of Triangle Pain Consultants. She is board certified in Pain Medicine and Physical Medicine & Rehabilitation. Dr Atli is affiliated with WakeMed Hospital and WKCC, an accountable care organization found by WakeMed Health & Hospitals and Key Physicians to provide high quality, coordinated care throughout Triangle community.
After completing her post graduate degree and residency at UNC Chapel Hill, she started her fellowship training in pain management at the University of Washington in Seattle with the Department of Anesthesiology and Pain Medicine. She has been practicing pain medicine full time for the last fifteen years. She has experience in both private practice and academics. During her academic career, she worked as an assistant professor and pain fellowship director in the Department of Anesthesiology and Pain Medicine at the University of Washington, and she taught interventional pain procedures to residents and fellows.
Before opening Triangle Pain Consultants, she worked at the Naval Medical Center Camp Lejeune, treating active duty service members and wounded warriors with chronic and acute pain issues. She has found it to be very gratifying and rewarding to be able to help our marines and sailors whom she believes need the best care possible.
My philosophy is "I treat each one of my patients as if they were my family members".
I like reading, hiking, traveling, meeting with new people, and exploring new cultures.